What is Staff Augmentation ? and How Does It Work in 2023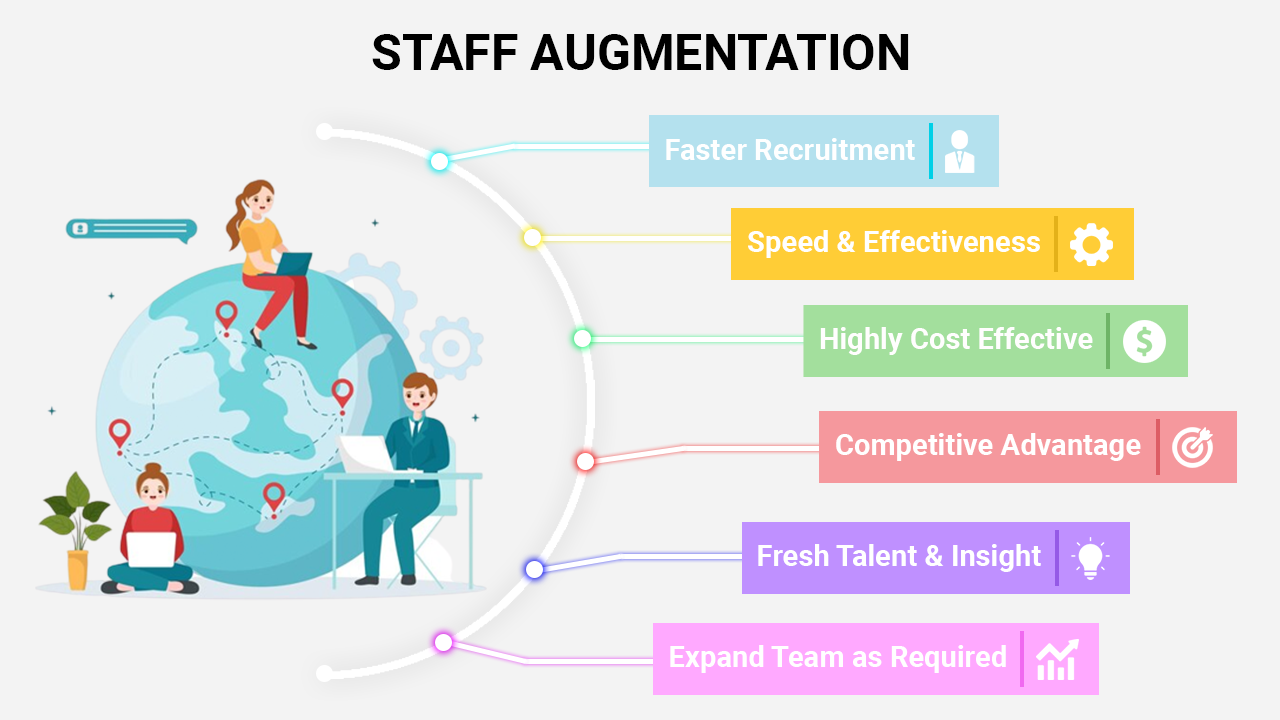 Table of Contents
What is IT Staff Augmentation ?
Staff augmentation is a powerful tool that can help any organization, but it is important to understand the different types of staff augmentation and how to choose the right model. This article will equip you with the information you need to get started.
"Staff Augmentation is the temporary use of outside personnel to augment the capacity of your organization to fill the talent gaps promptly or meet a project deadline."
The use of contingent workers has increased dramatically over the past few years, with organizations using such workers across boundaries. These workers fill roles temporarily due to vacations, illnesses, talent gaps and other reasons. The most common model is staff augmentation.
Companies may use staff augmentation in a wide range of scenarios, including the following:
Your team needs reinforcement. – While you have in-house software developers, you should supplement or improve your current expertise when releasing new products or launching new projects. In this case, you may want to augment your IT team while still leveraging existing resources internally. This type of reinforcement is very common among organizations that opt for staff augmentation models.
A deadline is fast approaching – The recruitment process for software development roles can be a long one, from job advertisement to onboarding. You may not have the time or patience to wait two months for an IT staff augmentation project. An IT staff augmentation project could enable you to meet your needs regardless of the duration of the contract you signed- short-term or long-term contract. Additionally, you can easily discover a large pool of software engineers from all around the world..
You require particular abilities to carry out correctly – By providing additional employees with the appropriate expertise to fill a software development or IT skill gap, augmented staff complete a project or task. If you want to expand your team within a short time, introduce specialized engineers or technicians (DevOps, data scientist, quality assurance engineer and business analyst). Or if you need someone with a special skill set and can help train up your existing staff over time, then augmented staff may be for you.
As a bridge for hire – Starting a staff augmentation project can help bring in software development engineers to meet your short term needs while you recruit permanent employees. They would help you to keep your projects on track as you go through the traditional recruitment process.
Pros and Cons of Staff Augmentation in 2023
Staff augmentation is a flexible, creative solution for increasing resources within an existing team. It provides a swift way to bring in talent that fills a skill set gap, without a long-term employment commitment. But there are more advantages: intangible benefits such as keeping in-house teams focused on production and deliverables versus worrying about new hires with more skills replacing them. For many organizations, the benefits of choosing staff augmentation are varied and compelling; here are some examples:
Pros of staff augmentation
Add expertise – Staff augmentation can be an effective strategy for short-term projects that require skills that your organization does not possess.
Quickly scale up or down as per the demand – As organizations navigate through the unchartered waters of a global pandemic, the ability to quickly and efficiently scale resources in any direction on demand can be a major benefit. Augmentation of staff allows for an organization to add resources when and where they are needed and potentially enables an organization to scale down when necessary with less impact on direct hires.
Staffing adjustability – Staff augmentation generally makes it easier to add to an existing team more quickly and efficiently. A staffing agency or online talent platform provider can match a company's needs with available contractors, which can be placed on a recurring basis as needed. Staff augmentation also makes it easier to replace people who are underperforming or do not fit in with the culture of the company.
Training cost and time reduction- Onboarding new direct hires require time, resources and additional training. Staff augmentation is a means of bringing in new employees while maintaining the current workforce as smooth as possible. The goal is to supplement full-time employees with people who have different skills for a period of time rather than onboarding them into the company and assimilating them into their roles.
Overhead cost savings – Research indicates that full-time, permanent staff are typically more expensive than temporary workers. By turning to staff augmentation—that is, bringing on a temporary resource—an organization can save money on certain long-term costs and overhead.
Cons of staff augmentation
Staff augmentation can be successful in situations where direct hires do not meet the requirements, but it requires changes to internal processes and tools. Plus, there are risks associated with using staff augmentation as a go-to model for longer term projects, including higher costs and greater risk when a service level commitment is not fully defined.
Monitoring and management – When a company expands its workforce and resources, it must take steps to ensure that it has proper oversight of its temporary workers.
Lack of contextual or institutional knowledge – Some projects require the historical knowledge of existing employees, who may not be available. A new employee may have to be educated and ramped up, depending on the project.
Sometimes cost higher – When using staffing augmentation, a placement agency is compensated for collecting fees and talent is paid as well. So, over time, staffing augmentation contractors may cost more than permanent staff performing the same job function. In the short term, this reduction in hiring/de-hiring costs may offset the increased labour cost.
What are the different types of Staff Augmentation you can implement?
There are mainly two types of Staff Augmentation: Short-term and Long term:
Short-term staff augmentation – is applied when there is a short-term need for employees or when in-house employees are unavailable.
Long-term staff augmentation – is applied when the project is longer, and there is a need to fulfil a skill gap or cut operational costs or when hiring an in-house staff member is difficult.
Staff augmentation can be divided into three categories: commodity, skilled and highly skilled.
Commodity augmentation – you need a workforce that is trustworthy but does not have any particular skill set.
Skilled augmentation – you need a specialist with a specific skill set but the level of those skills is not critical.
Highly skilled augmentation – professionals who possess very advanced skills can be achieved only through effective training and experience.
How to Choose the Right Staff Augmentation Partner in 2023
When a company decides to launch an augmented staff or bring on a robust distributed engineering team, the first step should be finding a vendor that understands their client's unique staffing needs. A company's outsourcing strategy can be as unique as its business, so your IT staffing agency should be flexible and resourceful.
Before choosing a staffing augmentation vendor, it is important to assess your company's staffing needs. As you search for specialized skill sets to expedite your project or fill internal skill gaps, make sure you take note of the scope of the project(s) your augmented staff will be associated with. Also measure how quickly internal teams can integrate provisional talent, how effective communication channels are at collaborating with onshore or offshore workers and how adept your outsourcing partner is at executing staffing requests or adjusting their overall staffing approach when needed.
This guide will take you through several simple steps that will help you choose a staff augmentation partner that meets your company's specific needs.
Evaluate your staffing needs – Before you begin searching for outside engineering or creative expertise, assess your staffing needs to determine which roles will be most beneficial to your organization. Are you looking for software developers to integrate into your engineering department? Or are you trying to set up a dependable remote development team to free up essential in-house personnel to work on a business-critical project? Perhaps you need to deal with a shortage of available office space.
Research the experience and expertise of your staffing partner – By verifying a potential staffing partner's experience in your field and its expertise in IT support, you will be able to contract a vendor capable of providing you with the supplemental IT staff you need.
Assess Contract Types, Delivery Deadlines and Terms – If your staffing partner offers you boilerplate work agreements or standardized, one-size-fits-all contracts, it may be a sign that they lack the resources or experience to handle the project. Hire a staff augmentation company that will tailor work agreements to fit your company's unique business needs, as well as take the time to understand your firm's development environment, ensuring that you have access to outstanding technical talent when you need it most.
Ensure that your staffing service has clear communication protocols in place- When assessing the success of your project, it is important to determine how a staffing provider ensures account communications. This can be done by determining the general style of their communication. You should also analyze whether or not the provider has clearly defined and simple-to-use communication protocols for its clients. A clearly defined protocol allows you to foster uninterrupted workflow and measure progress effectively.
Are you struggling to decide which staffing firm is best for your company?
If you are not sure which option is best for your company, contact our specialists. We will assist you in determining the best option for you and will supply you with a highly qualified and professional team. Visit : https://www.truefirms.co/it-staff-augmentation/ to get in touch with us right away.
Frequently Asked Question :
staff augmentation vs staffing ?
types of staff augmentation services ?
staff augmentation job description ?
staff augmentation benefits ?
what is resource and staff augmentation ?
staff augmentation vs consulting ?