SOCIAL MEDIA MARKETING ? It's Easy If You Do It Smart?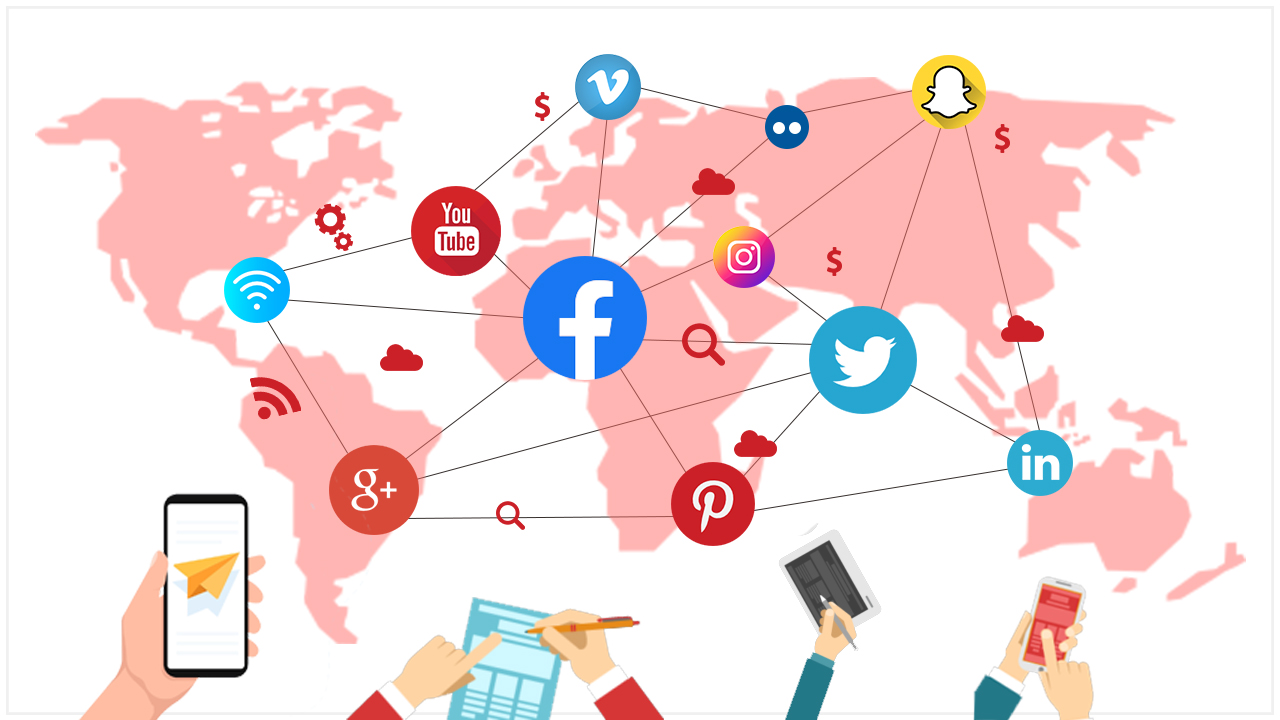 The world has evolved majorly around technology like social media marketing, making the world tech-savvy and dependent on high-end services. Among these social media is the top contender.
To help you achieve your marketing and branding objectives, social media provides an online platform that uses the strength of well-known social media networks.
Do you know? As per the Global Social Media Statistics Research Summary 2022, around 54.8% of the population uses social media. Now think about what would be the impact of using your marketing tactics on social media. Hence, social media is a platform to showcase your brand and your products on a very large scale.
Social media marketing now plays a part.
The process of increasing website traffic or attention by using social media marketing platforms is known as social media platforms.
In simple words, the use of social media platforms to interact with your audience to sell your brand, increase sales, and increase website traffic, is known as Social media marketing.
social media campaigns often focus on attempts to provide content that grabs readers' interest and entices them to share it on social media. Through this, your program gains the attention of the masses.
How social Media Platform help to grow Business
Anyone with access to the Internet may now readily use social media marketing as a platform. Organizations that communicate more often promote brand recognition and frequently provide better customer service. Additionally, social media provides businesses with a relatively low-cost platform to run marketing initiatives.
You must be thinking, which are these platforms? How can you start off with a social media marketing strategy? How much does it cost? Is it effective?
Yes, we know that all these questions must be hovering in your mind. Do not worry, this blog is here to solve all your queries. Starting from the first question.
What are the different Marketing platforms?
According to Statista, the most popular social networks worldwide as of January 2022, ranked by the number of monthly active users in millions are as follows, 2,910 users on Facebook, 2,562 on Youtube, and 2,000 on WhatsApp, 1,478 on Instagram, 1,263 on WeChat and more.
These are the platforms on which you can run your social media marketing strategies and once you conquer the art of marketing on social media you can enjoy the fruitfulness for a long period
Getting started with social media strategy
We all have our permanent address, at the same time we have a virtual address where we maintain our virtual presence. We can reach out, communicate, and build our social reputation.
To start off with your business here are some steps you must follow:
Ensuring authenticity: create your business profile on your desired platforms with authentic and real data about your brand.
Find your target audience: Finding your target customer base is the most important aspect of digital marketing. Since it is the audience that converts into your customers and helps you achieve your business goals.
Content creation: creating unique and engaging content must be your short- and long-term goals. Content helps you to interact with your audience and helps in mass communication.
Reputation Management: replying to reviews is an engaging and real-time form of communication that you can have through reputation management.
Effective marketing: after performing the above steps, you receive a quality data poll based on which you can sketch out your future plans.
The central question revolves around whether all this is worth it? Why should you transform your business on social media?
Having a social media account for your business opens the door to various opportunities and below are mentioned some of these:
It helps you build your buyer's persona: you need to have a decent understanding of your target audience. Who are the customers for your goods or services? You may concentrate your efforts on the channels and content that are most pertinent to your customer personas after you have more knowledge about them.
Gain control of your audience: according to the campaign needs, we can expand or contract our audience. This helps you to reach a potential audience.
Data-driven: as compared to traditional marketing methods, like Instagram, Facebook provides interactive data reports about how our campaign performed on a real-time basis.
Efficient & effective method: marketing strategies is an efficient platform where you have the ease of remarketing your campaigns whenever you want and only target the potential customer base with a lesser amount as compared to the traditional method.
Receive feedback: through marketing, you get productive insights about how the audience feels about your business and hence, tend to share their experience. Therefore, it is a critical point that one needs to work upon to accomplish their goals.
Being on social media marketing makes your business more discoverable, connected, timely, and insightful. Thus, using social media gives you an edge over your competitors to cater to a multitude of people with effectiveness and ease.
We hope you found our blog helpful and would love to interact with you. Please drop your comments about your experience below.